The design and crafting of gentleman's shoes is an artform which has arisen and evolved across the centuries. Fashions may come and go, and styles may rise and fall with the changing of the decades, but excellence in craftsmanship and quality in execution never falls from favour.


Across the years, certain styles of men's shoes have maintained their appeal, and continue to be popular today as a result of their elegant appearance, their sturdy practicality, and their ability to provide the finishing touches to a sophisticated outfit. Here at TLC, we want our customers to be as informed as possible when it comes to selecting their newest pair of artisan-made shoes, and as a result, we've put together this handy style guide to further your knowledge of the range of footwear designs available. Read on, and uncover a world of subtlety and beauty via the fascinating medium of handmade footwear.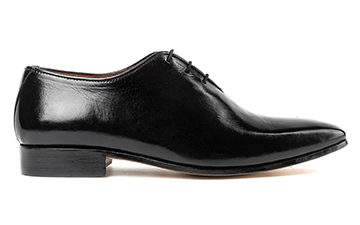 An Oxford lace-up shoe is characterized by shoelace eyelets tabs that are attached under the vamp, a feature termed "closed lacing". This contrasts with Derbys, or bluchers, which have shoelace eyelets attached to the top of the vamp. The picture on the right shoes an oxford with a toe cap. Sleek, sophisticated, and perfect for pairing with a well-cut suit, the oxford is another classic shoe style which has endured in popularity for decades. With their slightly pointier and more elongated tips, they provide a gentleman with a distinctly European sort of elegance. The oxford shoe is also often brogued, which allows them to be paired with slightly more casual attire.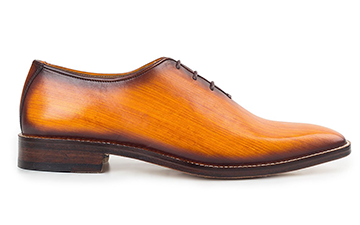 A Derby lace-up shoe also referred to as Bluchersis a style of boot or shoe characterized by quarters with shoelace eyelets that are sewn on top of the vamp. This construction method, also known as "open lacing", contrasts with that of the oxford. The Derby is a true design classic, and brings a timeless sense of elegance and laid-back style to the casual shoe, making it a perennial favourite with gentlemen all over the world. Derby shoes can instantly be recognized by their more rounded toe shape, as well as by the eyelets sewn to the exterior of the vamp. Originally, these shoes were designed for outdoor use - they were favoured by hunters and sportspeople in the 1850s - but today they're more commonly worn with jeans or 'business casual' attire.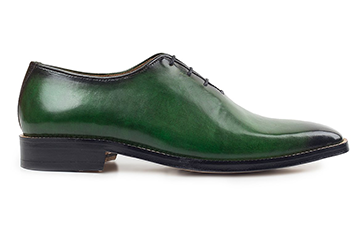 Wholecuts - As the name suggests, these shoesare made from a single piece of flawless leather with or without a backseam—in the latter case it is called a seamless wholecut, rather than from several components which are then stitched together. These shoes can be entirely plain and smooth or with tiny perforated decorations. If you're on the lookout for a leather shoe which really demonstrates the luxury of the material it is made from, then the wholecut might just be the style for you. Sleek, minimal, attractive and versatile, they work well with a variety of outfits, and provide lasting comfort, too.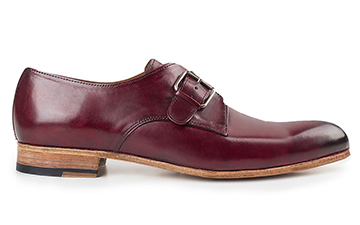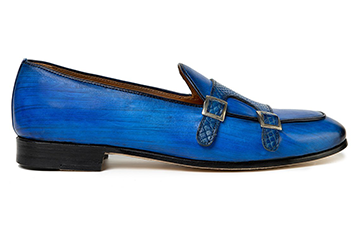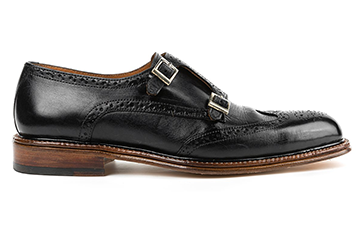 A monk strap is a style of dress shoes with no lacing, instead secured on the feet by one or mutiple buckles and straps. It is a moderately formal shoe: less formal than a full Oxford (American: Balmoral); but more so than an open Derby (American: Blücher).

A Double Monk shoes has two buckles while a Single Monk
has one buckle.

Boasting their titular straps and buckles, the monkstrap certainly looks as though it bridges several centuries with its style. In actual fact, its DNA lies somewhere between an Oxford and a Loafer - it's a slip-on shoe, but one with a tongue and a vamp, and plenty of elegance to match.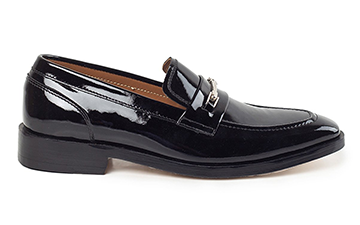 Slip-ons are typically low, lace-less shoes. The style most commonly seen, known as a loafer or slippers in American culture. Popularized in 20th century USA, the loafer has its roots in the original moccasin shoes of North American history. Casual yet elegant, understated yet impactful, the loafer is a statement of laid-back, louche sophistication, where comfort sits side by side with style. Loafers will typically be cut from a single piece of leather, although some manufacturers will use two sections joined with a strap. Laceless and flexible, this shoe style sees the fitting of the last around the heel and the joint (the broadest part of the shoe), to provide the utmost in comfort.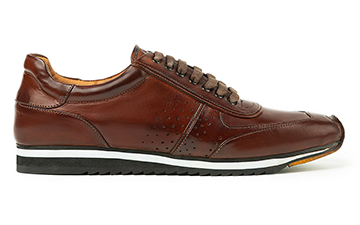 Sneakers are shoes primarily designed for sports or other forms of physical exercise, but which are now also widely used for everyday wear.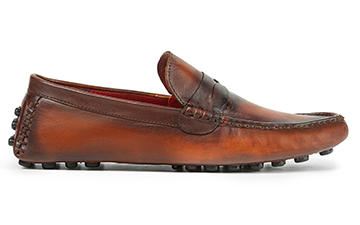 A driving moccasin or moccasin or driversis a contemporary version of the traditional Native American moccasin with the addition of rubber tabs on the sole. The addition of rubber-pad sole adds to the versatility and longevity of the shoe while maintaining the flexibility and comfort of a traditional moccasin. They were invented for men who wanted extra grip while driving.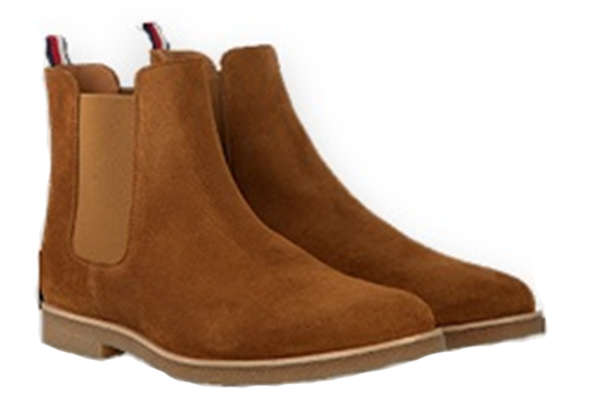 Chelsea boots are close-fitting, ankle-high boots with an elastic side panel. They often have a loop or tab of fabric on the back of the boot, enabling the boot to be pulled on. The boot dates back to the Victorian era, when it was worn by both men and women. Made from a seamless piece of quality leather, this style of boot is essentially a slip on, offering the wearer a high level of flexibility, as well as superb durability, too. The main draw of the Chelsea Boot is the fact that it sits somewhere between smart and casual - it works with a suit, but can also be worn with a pair of jeans to similarly striking effect.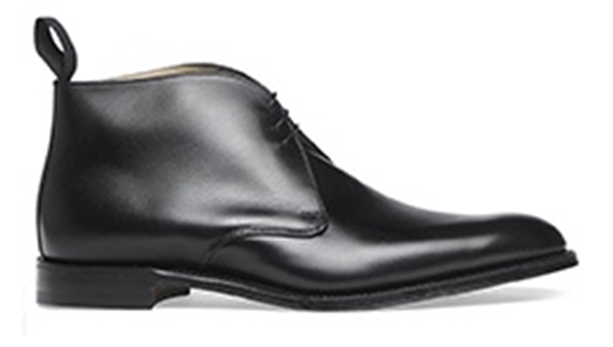 Chukka boots are ankle-high leather boots with suede or leather uppers, leather or rubber soles, and open lacing with two or three pairs of eyelets. The name chukka possibly comes from the game of polo, where a chukka is a period of play.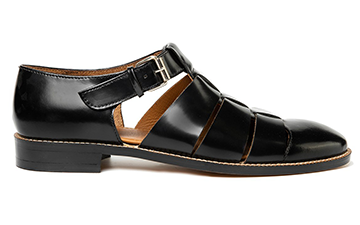 Sandals are an open type of footwear, consisting of a sole held to the wearer's foot by straps going over the instep and, sometimes, around the ankle.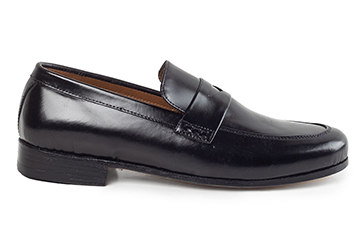 Apron Toe - It can be recognized by the visible edges or stitching that finishes off the toe and forms a sort of apron along the shoe's front.
Bicycle Toe - A type of toe characterized by two stitched straight line accents, so named because of their similarity to professional bicycling shoe detailing.
Cap Toe - A type of toe style with a full toe overlay and a straight stitching line across the top part of the toe, often seen in dress shoes. When it comes to simple elegance and understated beauty, you can't go wrong with a well-made captoe shoe. This footwear style is the essence of the everyday dress shoe, and it gives the shoemaker plenty of scope for creativity and embellishment (broguing is common with captoe shoes) with which to make their mark. The captoe can easily be identified by its distinctive appearance - a narrow, sleek leather sole, and a toe box which is modelled on the natural shape of the foot. Not too square, not too pointy, it balances the line between the luxurious and the practical.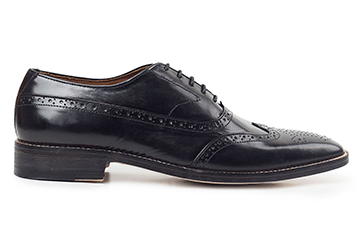 Brogue - Also Known as Wingtips - A 'heavy' balmoral, or oxford-style shoe that flaunts ample 'pinking' (perforations or zig-zag detailing) and 'perforations' or small punches/holes that can be used to decorate a shoe by accentuating the look of the shoe's seams.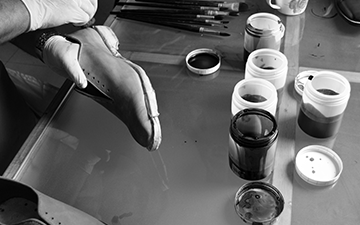 Burnish / Antiquing- The process of buffing a shoe surface to achieve an antiquing effect of the leather.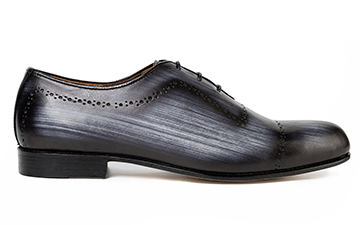 Medallion - The ornamental details that are created by 'perforating,' or brogueing, the toes of dress shoes in varied, but always symmetrical designs.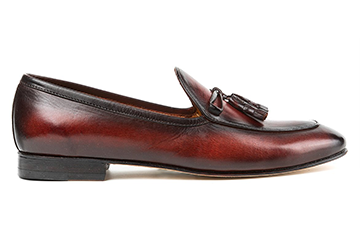 Tassel - A rope and knot ornament typically found on the vamp of a loafer or moccasin.